Samantabhadra Yab Yum Thangka #20
hover to zoom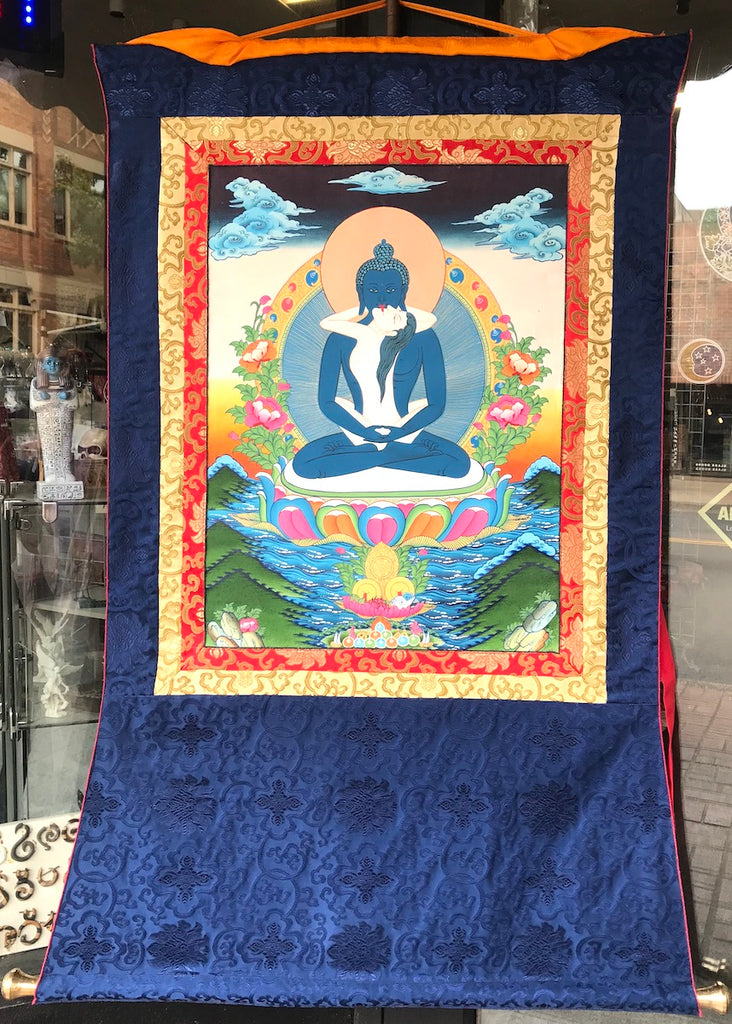 SALE
Sorry, this item is out of stock
Samantabhadra Yab Yum also known as KuntuZangpo Yab Yum in Tibetan Thangka. Beautiful hand painted thangka in Nepal. Comes with silk brocade frame, wooden stick on the bottom with dowel on both side.
He is often portrayed naked with a dark or bright blue body, to show nothingness and a lack of form.  The woman sitting on him is Samantabhadri, Samantabhadra's consort and female equivalent who is most often white, to represent wisdom.  Neither are clothed to show the simplicity of the mind.  The tantric embrace of Samantabhadri and Samantabhadra symbolizes the union of kindness and wisdom. His name, Kuntuzangpo in Tibetan, Samantabhadra in Sanskrit, means 'always good', 'always well' or 'unchanging goodness.' What this signifies is that unchanging goodness, or fundamental goodness, is our ultimate nature. Samantabhadra is the unity of awareness and emptiness, the nature of mind, natural clarity with unceasing compassion - that is Samantabhadra from the very beginning
Hand painted in Nepal, amazing detail and great price.
Size of Thangka with Silk Brocade: 30" X 47"
Size of the Canvas: 18" X 24