Prayer Flag: Buddha Quotes #1
hover to zoom
SALE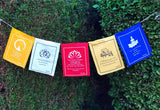 Prayer Flag with Quotes from Buddha. Traditional Prayer flag are hung to bring good luck, prosperity and well being.  It comes in five different color. Size: apx 8" by 10" with 5 flags.
Here are the quotes:
Orang Color: If you light a lamp for someone else. It will also brighten your path.
White Color: To be free from suffering free yourself from attachments.
Red Color: A man asked Lord Buddha "I want happiness. For Buddha said first remove "I" that's ego then remove "want" that's desire. See now you are left with only "Happiness".
Yellow: Holding onto anger is like drinking poison and expecting the other person to die.
Blue: No matter how hard the past you can always begin again.