Rigpa Calendar 2021
hover to zoom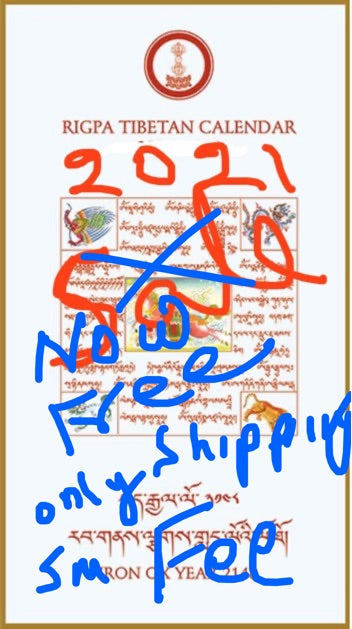 SALE
SKU: Free
Sorry, this item is out of stock
Free. This year, Rigpa's calendar is dedicated to the long life of all the teachers, the flourishing of the Buddhadharma, and the rapid relief of suffering and turmoil in the world and especially the coronavirus pandemic. 



Along with the main public and religious holiday, you will find in it the special practice days, such as Guru Rinpoche days and Dakini Days, as well as the main events of the year commemorating the deeds of the Buddha and the anniversaries of all the main teachers of the Tibetan Buddhist lineages. To help you plan your daily events a new monthly planner can be found at the beginning of each month, as well as a yearly planner for 2021
The classic Rigpa Tibetan Calendar for the
Iron Ox
 year 2148 is filled with all the usual features: prayers for auspiciousness and to remove obstacles, special practice days and festivals, anniversaries of masters of all the Tibetan lineages, holidays from many countries and much more information.
Rigpa Calendar is not just a calendar rather it is a treasure trove of information about Tibetan Buddhism with prayers and images of various Deities and great Masters. Since the Rigpa Calendar comes in a pocket book it is convenient to keep in one's bag and easy to travel around. 
Size: 7.10"tall by 4.20" wide.