Handmade Silk Rahula Lg #42
hover to zoom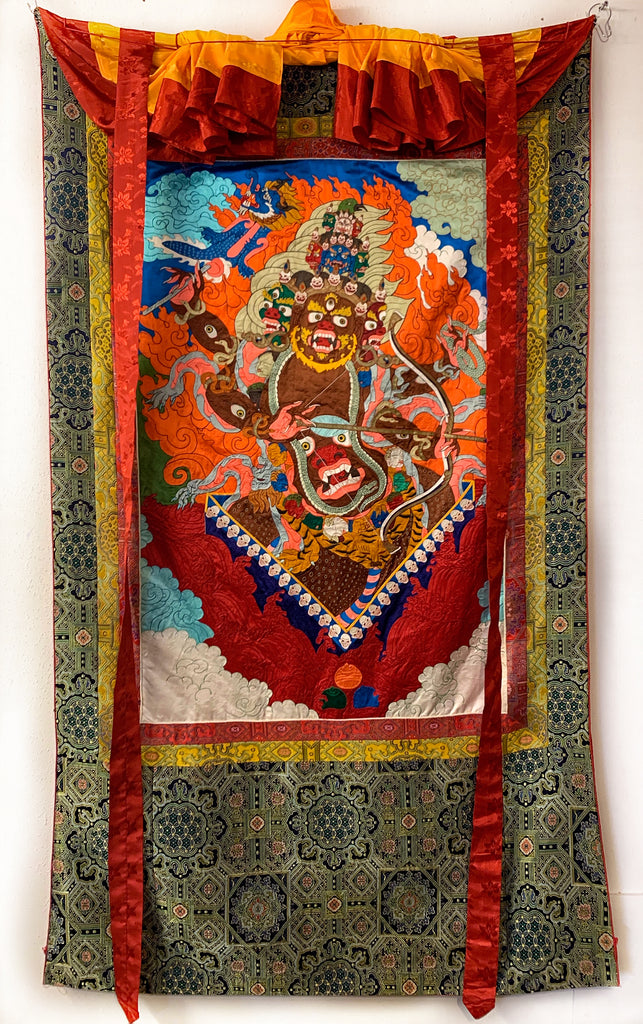 SALE
Only one piece of each Silk handmade thangka available.
We have acquired these special thangkas from our old friend in Taiwan, who had closed his store 15 years ago. We have just now been able to make them available to you and at a great a price.
      Rahula is one of the Dharma-protectors of the Nyingma Lineage. In Nyingma traditions, Rahula is portrayed with the lower body of a coiled serpent spirit (naga) and the upper body with four arms, nine heads, adorned with a thousand eyes. In the middle of the stomach is one large wrathful face. The face in the belly is actually the face and head of Rahula. The nine stacked heads depicted above are the nine planets that Rahula has eclipsed, or rather literally swallowed, eaten and now symbolically appear on top of his own face and insatiable mouth. At the crown of the stack of all the heads is the head of a black raven.
Size approximately: Just Image: 27" wide and 40" Long. With Brocade 42" wide and 70" Long.
Doesn't come with poles and dowels. The thangka will be shipped folded.