Yeshi Tsogyal Thangka in Taksham Lineage #33
hover to zoom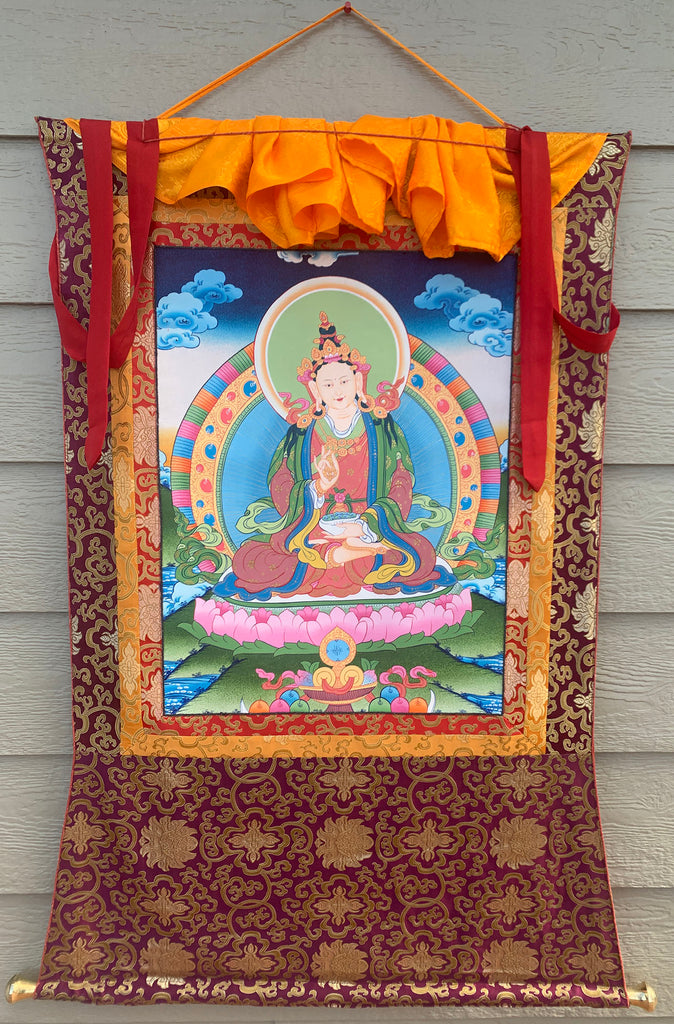 SALE
Yeshi Tsogyal known as "Victorious Ocean of Wisdom"
She was born as a princess in the clan of Kharchen.  According to some accounts her father was called Namkha Yeshe and her mother was Gewa Bum. In other histories, such as the Zanglingma and the biography revealed by Taksham Nudend Dorje, her father is named as Kharchen Palgyi Wangchuk, who is otherwise said to have been her brother. Yet another version names her father as Tökar Lek and her mother as Gyalmo Tso.
She became the consort of King Trisong Detsen before being offered to Guru Padmasambhava  as a mandala offering during an empowerment. She specialized in the practice of Vajrakilaya and experienced visions of the deity and gained accomplishment. In Nepal, she paid a ransom for Acharya Salé and took him as her spiritual consort. Through the power of her unfailing memory, she collected all the teachings given by Guru Rinpoche in Tibet and concealed them as terms . At the end of her life, it is said, she flew through the air and went directly to Zangdokpalri.
This beautiful thangka of Yeshi Tsogyal is hand painted in Nepal.
Size of Thangka with Silk Brocade: 30" X 47"
Size of the Canvas: 18" X 24