Pink Tourmaline Bracelet
hover to zoom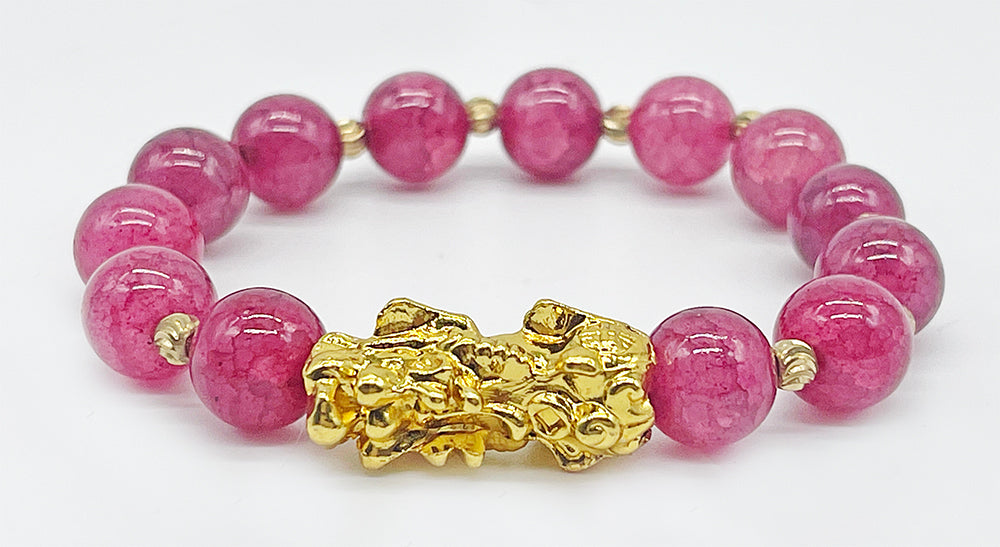 SALE
Sorry, this item is out of stock
Pink tourmaline carries the meanings of compassion, self-healing, and love. Some people claim it is the perfect stone to carry if you suffer from anxiety.
Spiritual healing is another excellent reason why one should use pink tourmaline for  meditation. When used in meditation it commonly makes a strong connection within the highest chakra in the body, located at the crown. Once this stone activates  the crown chakra it easily creates a link down to the higher heart chakra. The higher heart is the area related to Divine love, compassion, truth and forgiveness.
The Pixiu, also known as the Piyao, is an auspicious mythical creature in Chinese culture. Largely resembling a rather abstract but powerful lion, the creature has the head of a Dragon and wings that give it the ability to fly. Pixiu is considered to be loyal and obedient, which is why the symbol has become a popular personal protector in traditional feng shui. Due to its powerful nature, it is said that the Pixiu can ward off evil spirits and protect people fro harm. It also can bring good luck, fortune and empowerment. 
Size: 10mm

13 bead plus Dragon and tiny beads in the middle.