Dorje Drolo Thangka #31
hover to zoom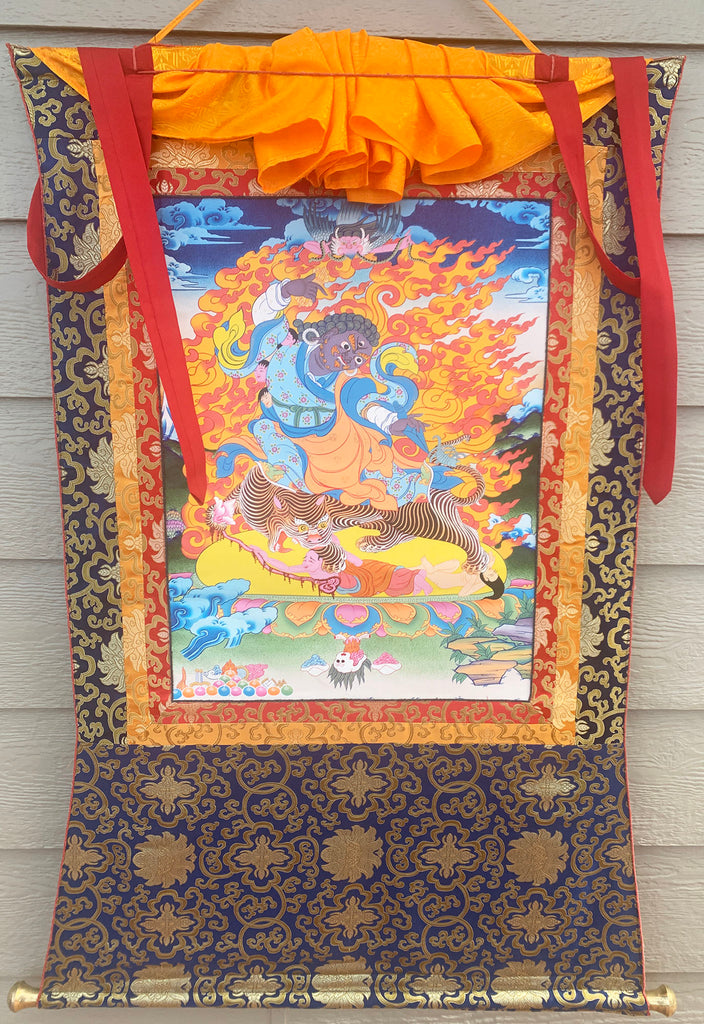 SALE
Guru Dorje Drolo is one of the eight emanation of Guru Padmasambhava. He is in a wrathful form riding a pregnant Tigress. He assumed this manifestation at Paro Thaksang in Bhutan in order to bring the local deities and guardians under his control. The meaning of his name:  Dorje is the Tibetan word for vajra, which can be translated as "indestructible." Drolo means "ultimately," or "insanely wrathful," and is sometimes translated as "crazy wisdom." So the name of the eighth emanation of Guru Padmasambhava is "Indestructible Crazy Wisdom."
Dorje Drolo is also a very special and powerful emanation to help clear away and dispel complex webs of mental and emotional obstacles. Dorje Drolo is the best practice for removing mental and emotional obstacles. Guru Rinpoche appeared in this form to liberate sentient beings from anger and attachment.
People who feel mentally unstable or unhappy for no apparent reason would benefit from practicing on Dorje Drolo. Even though everything is fine, sometimes the mind still doesn't feel comfortable, relaxed, or at peace. We feel unsettled. This is when practicing on Dorje Drolo is especially relevant and useful. It will help calm and balance the mind.
Size of Thangka with Silk Brocade: 30" X 47"
Size of the Canvas: 18" X 24"